TechTile (Access Plinth)
TechTile is constructed from steel and specified for heavy grade raised floor loading. Its innovative design provides an easily installed rack cable access system that will fully maintain the safety standards of your structural raised floor. TechTile offers a complete range of optional, and interchangeable, blanking plates and brush strips to assist you with your air flow control. We believe it is the first truly flexible approach to cable access requirements and all possible without the use of power tools or need for cutting.
TechTile – No loss of tile strength from cutting, no mess, no power tools. It is simply a better way
TechTile (Access Plinth) Patent No. 2 504 921
Dimensions: 600mm x 600mm x 42mm
Brush Aperture: 410mm x 90mm
Colour: Anthracite Grey
Simply choose the formation that suits your requirement. With its range of aperture plates you can decide on the size of aperture and number of apertures you need. No Drilling, No Cutting and No Mess simple and easy to use.
Choice
With TechTile you can also order in a choice of RAL colours (may be subject to minimum order quantity) and with the option of your logo. Making it easy to identify your TechTile. We are also able to offer a refurbishment programme for your used TechTiles (subject to status). Making TechTile your re-useable access solution.
Download TechTile Factsheet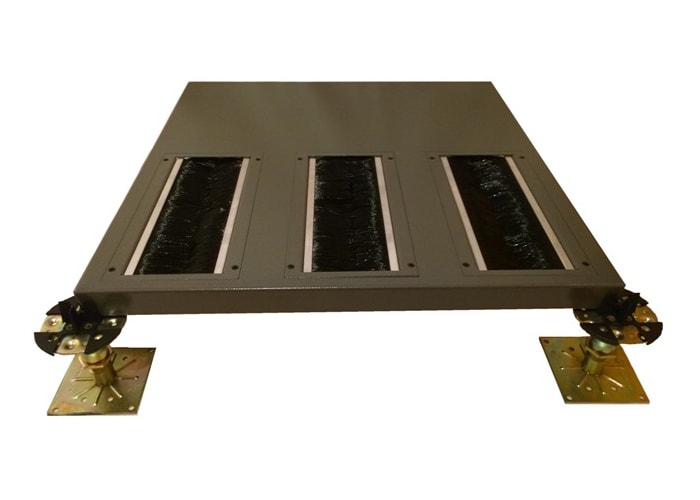 What Our Clients Say
"Breiz makes our job easier and we can rely on them. We have become used to taking up their advice and like their solutions"
"We like it that Breiz sees solutions to problems before the problems arise. They are a fixture in our planning strategy."
"We call upon Breiz all the time; they understand us and make our life simple. Their input into designed solutions has been invaluable, their installation work has been on time and on budget and their handling service saves us time and effort."